Daniel Bruns ‎– Eye-Trance 01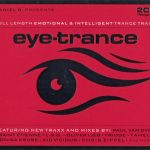 CD 1
Alpha Breed – Missing Link
S-Project – Julika
Survivors – Heaven
SFINX – Synthyris Part 1
Dominion – 11 Hours
Fridge – Angel (John Johnson Remix)
Yahel – Devotion
Saint Etienne – How We Used To Live (PvD Remix)
Canalogue – Tribal Dream
CD 2:
Sunstar – Balearic Desire
Kid Vicious – Paraphrase
DJ Erwin – S.P.A.N.K.
Cosmic Project – Peacemaker
Hallucinogen- L.S.D. (Oliver Lieb Remix)
Monika Kruse [At]Voodoamt – Needlehoper
L.S.G. – I'am Not Existing (Oliver Lieb Main Mix)
Revival Feat. Non Eric – Summer Of '92
World Clique – Don't Do It
Chris Zippel – Riders Of The Storm
CD 3:
Daniel Bruns Special Turntable Mix By Daniel B.
Label: PIAS Recordings
Format: 3xCD
Release Date: 2000